Au pair in Australia –
Living as Au pair in Australia
With so much to offer, Australia is the ideal destination for a longer stay as an au pair. The Au Pair Australia program is designed to give you an opportunity to "live the Aussie way" and share the lifestyle. Australian people are very active and enjoy life to the fullest, spending a lot of time outdoors. After a day at the office, it is not unusual to enjoy a quick dip in the sea or meet up with friends on the beach. The day is often finished with an informal "barbie" (barbeque). Sports are also really important in Australia and many host families have their children participating in a wide variety of sports activities. From world-class restaurants to surfing and relaxing on the beach, every day brings a new experience!
On your days off, you will have a chance to make friends with people from all over the world: Australia has many international students and backpackers so there will be lots of other young people for you to meet. Go to the beach or maybe take a boat trip and get to know the Land Down Under!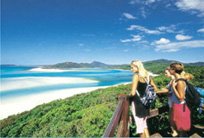 Australia is a country with lots of sunshine, great beaches, outdoor activities, rain forests and national parks. Sydney, Melbourne and Brisbane are the largest cities with great cafes, food, entertainment and many varied things to do. Many visitors like travelling to the North East coast to surf and visit the Great Barrier Reef, Fraser Island and the rain forest near Cairns. Australia is a large country, and there for has a good network of cheap flights and busses to get around. We have families listed from all over the country looking for Au-Pairs from the big cities such as Sydney, to small coastal towns such as Noosa and Byron Bay or apply for a true Australian experience on one of the large outback stations.
About the job
Most au pairs in Australia provide between 25 and 35 hours of child care per week, and you may be asked to babysit in the evenings. The stipend you will receive is based on the number of hours you work per week, but can range between $240 to $340 AUD per week. Highly experienced candidates may be offered placements requiring additional hours, in which case additional compensation would be provided. Placements are available throughout the country and you may indicate any location preferences.
Your duties could vary depending on the children's ages and the family's needs. General au pair duties include taking the children to and from school, playing with the children, light housework as it relates to child care, preparing meals for the children, tutoring the children and more. Au pairs should have at least 100 hours of child care experience and a genuine love of children.
Once we have your full application approved, we will quickly introduce you to prospective families that meet your broad requirements in terms of location, duration of placement, size of family etc. We recognise that travelling to a foreign country with different language and customs requires some adjustment, and we provide all our Au-Pairs with a contact network of other local Au-Pairs so you can quickly feel at home and meet new friends
How we assist – What do we do for you?
We are very experienced in screening families and will only place with the best families that understand the obligations they have towards you. In fact most of our families have been with our agency for many years.
We remove the risk of income and the insecurity by lining up a job for you before you arrive in Australia. We have an extensive data base with many families for you to choose from.
We are actual people and not just a web based service with no one to answer your questions.
We offer personal service and support for the entire duration of your placement with your family or your chosen program.
Fee: No charge for Au Pairs for our service and we ensure you will have a great, safe Au Pair experience!
Other costs to consider:
Airfare
Visa ($420 AUD)
Personal spending money
Insurance
Au pair Canada reserves the right to refuse acceptance to an applicant who we believe to be unsuitable for our programs for any reason. Our partner in Australia will provide you full support on your arrival, you may contact Au pair Australia 2 Morgan Place, Beaumont Hills, NSW 2155. Australia. Tel: 0478 418 191.
As an Au pair in Australia, you'll receive:
Transportation from the airport to your host family
Dedicated training materials for the Au Pair in Australia program and a welcome pack
Placement with a carefully screened host family
A private room and full board
A stipend of AUD 240-340 per week (final stipend will be included in the contract)
Two days off per week
Introduction to other au pairs in Australia
Re-matching service (conditions apply)
Access to help desk during office hours
Pre-departure packet, including program guide,Au pair World notebook, tips and more
Special Travel discounts
Au Pairs are overseas students without any formal childcare qualifications and are between 18 and 30 years of age. As Au Pairs are not qualified childcare workers/ nannies, they cannot be responsible for looking after babies under 12 months of age unsupervised for long periods of time (e.g. 2/3 hours maximum, not for the entire day). Au Pair placement is not a cheap holiday and can have its difficult days with kids, homesickness or routine. However you will find that you have plenty of free time to explore, go away for weekends, meet friends, go surfing etc.
Being away from your own country and environment will stimulate you to work on your personal development. You will learn things about yourself you have never realised. You will change as a person; you will become more independent and confident. You also will develop a different view of the world as you realise that there are many ways to do things and you will learn how to handle different situations. After you have lived and worked as an Au pair in a foreign country, your life will never be the same again.
Fee: No charge for Au Pairs for our service and we ensure you will have a great, safe Au Pair experience!
Program Length
Six months with one host family. It is also possible to do two six-month placements with two families.
Program Dates
We can match au pairs with host families throughout the full year. The best time to start is in January or February, as this is when Australia's school year begins and when there is the highest demand among families. We have families available any month of the year.
Application Deadlines
We are currently accepting applications for au pair programs starting this year.
To be an Au pair in Australia, you must:
Be an European, American or Canadian citizen between the ages of 18 and 26 and non smoker
Have a driver's license
Have previous child care or babysitting experience and a genuine love of children
Be able to commit to a placement for at least six months
Meet the visa requirements for Australia
Complete a successful interview with an Au pair World staff member
Possess the physical and mental capacity and dedication to carry out the responsibilities of the program without interruption
Provide a clear criminal background check
Elite Au pairs reserves the right to refuse acceptance to an applicant who we believe to be unsuitable for our programs for any reason.
Entry Visa Requirements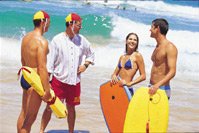 We do not place on tourist visas. You need to be eligible for a working holiday visa or a student visa. Please check before you apply to avoid disappointments and delay. All applications for visas must be applied for in your home country.
> For information see www.immi.gov.au
Au-Pairs from the following countries can apply for a working holiday visa to Australia:
Germany, Denmark, Sweden, France, the Netherlands, Canada, U.K, Belgium, Ireland, Italy, Japan, Korea, Malta, Norway, Hong Kong, Cyprus, Taiwan, Estonia and Finland.